The Best India to Toronto Flights (IN – YYZ)
Looking for India to Toronto cheap flights? MyTicketsToIndia is here to help you book cheap flights to Toronto, and make your travelling experience super easy. The flight booking experience on MyTicketsToIndia becomes awesome with the simple user-friendly interface. Book your tickets here and you can get to know YYZ deals and YYZ flight status at any time. Our customer care service team is working 24/7 just to make your ticketing process faster and hassle free.
Besides, we believe in accountability, therefore we offer 100% transparency and no hidden charges. We have secure payment methods so that you can count on us and we'll avail you the best flight deals and offers on India to Canada flights. So, don't miss to add the silver lining on your travel record by booking 'my flight to Toronto' with MyTicketsToIndia.

Average India to Toronto Flight Price
CAD 902.10
Average cost of flight tickets from India to Toronto
One-Way Airfare
CAD719.88
One-way flights are usually more expensive
Round-Trip Airfare
CAD 932.76
Round-trip flights are cheaper than one-way flights.
Average Flight Time
15 hrs 31 mins
That's because India to Toronto is 12,529 kms.
How to Find the Best Deals on India to Toronto Flights?
MyTicketsToIndia aims to prioritize your happiness by helping you in fulfilling your dream to explore the beautiful city of Toronto. MyTicketsToIndia provides bumper deals and offers in India to Toronto flights, which will surely make your travel cheap and comfortable. Be it the commencement of the festive season, or the call of an emergency situation, MyTicketsToIndia saves you from burning a hole in your pocket and offers a relaxing journey to Toronto.
Festive Deals- To help you enjoy the festive season to its fullest, MyTicketsToIndia provides bumper deals and offers on numerous festive eves. The deals are available on the festive seasons of Diwali, Christmas, Holi, among others. So, if you are planning a festive trip, then, book your India to Toronto flights or Toronto to India flights with MyTicketsToIndia soon, and enjoy the best flight offers. 
Call-Only flight deals- If you are looking to book cheap flights to Toronto from India, we are just a call away. The Call-Only flight deals promote up to 40% or $35 off on every booking made via calls on direct flight from India to Toronto. Our diligent travel experts are available 24*7 to cater to your every requirement. 
Family-Fun Offers- There are many people who wish to explore international destinations along with their family but usually back out due to the increased financial expenses. MyTicketsToIndia understands the genuine dream to take family on an international tour. So, we provide Family-Fun offers which will definitely reduce your expenses on India to Toronto cheap flights and help you enjoy a beautiful trip with your family.  
Last-Minute Deals- For the ones who need to book cheap tickets from India to Toronto within 15-20 days, MyTicketsToIndia offers Last Minute flights. Booking flights in an emergency is quite expensive, but MyTicketsToIndia provides certain relief on the high expenses of flights to Toronto.
Business Class Flight Offers- If traveling in a business class flight is your wish, we have good business class India to Toronto flights , that will surely make your travel grand without digging a hole in your pocket. 
Whatever the situation may be, MyTicketsToIndia is always there to help you in the worst. Whether you want to book direct flight from India to Toronto or want to opt for a connecting flight, we cater you with the best deals and offers and make your trip one of its kind.
Best Time To Book Flights To Toronto
The best time to book cheap flights from India to Toronto is between April and May or between September and October. These months paint the best weather for sightseeing. It is neither too hot nor too cold and you will find fewer crowds with cheaper accommodation. You will also get to relish delicious recipes at patio eateries, enjoy the fervor of the cultural events, and indulge in pedestrian markets. But, if you wish to visit the place specifically for snowy weather activities, then January and February are the best months to jump in the snow with joy.
Tips To Find Cheap Flight Tickets To Toronto
Try to book your India to Toronto direct flights at least 57 days in advance of your planned departure date. It is, on average, the best time to get cheap flights to Toronto. 
As per the travel experts, Tuesday is the least expensive day to fly to Toronto, while Friday comes out to be the most expensive day of the week. So, book cheap flight tickets from India to Toronto according to the advised day.
Meanwhile, February is considered to be the best month to book cheap flights from India to Toronto. Currently, August is the most expensive month to fly to Toronto.
Flights at midday are likely to offer the best value for money for your Toronto trip. While, a flight in the morning will more often than not be of higher cost.
Now when we have answered your query of 'my flight to Toronto', get ready for a memorable trip to the place. MyTicketsToIndia guarantees heavily discounted India to Toronto flight prices.
Popular India to Toronto Flight Routes
Round Trip Flights from Toronto To India
MyTicketsToIndia also guides you through the most favoured routes of the flights flying from Toronto to India. Besides helping you get cheap flight tickets to India from Toronto,Here is the list of the favoured routes that you can opt for, while looking for flights to India from Toronto.
Famous Tourist Spots You Can Visit In Toronto
Toronto! The bold, dynamic city filled with superb attractions accompanied with wonderful music and events, is rightly considered to be the leading tourism destination in Canada. So, now if you are ready to book flight tickets to Toronto, here are a few Toronto tourist attractions that are sure to create some of the indelible memories of your life.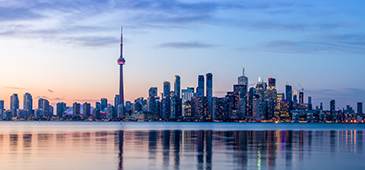 CN Tower
Famed to be Canada's most recognizable and celebrated icon, CN Tower distinctly defines the Toronto skyline. Standing 553.33m tall, the scenery from the top is truly incredible.Starting from the peerless experience of Edge Walking, sauntering on the famous glass floor to relishing some local delicacies, the place is sure to capture your heart with joy.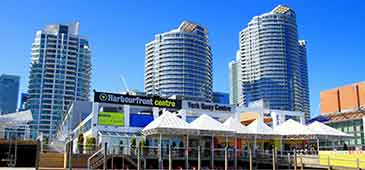 Harbourfront Centre
Harbourfront is an innovative non-profit cultural organization, on the waterfront of Toronto. Packed with art galleries and theaters, parks and outdoor stages; the Harbourfront Centre will make you experience some of the best cultural, arts and educational events and activities in Toronto. Meanwhile, you can also opt for some interesting marine experiences.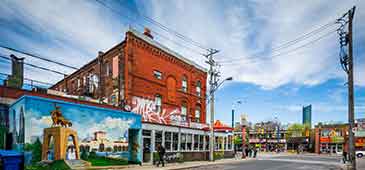 Kensington Market
The colourful, vibrant and chaotic Kensington Market perfectly paints the city's multicultural make-up. Lined with cool clothing shops, amazing restaurants and markets, the place has something for everyone. Besides, you can also shop from fashion boutiques, relish sample food from across the globe and also enjoy free cultural events.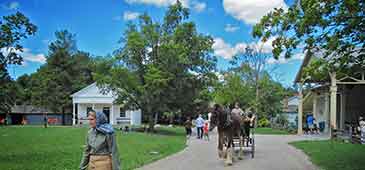 Black Creek Pioneer Village
It is a must-visit place for those who are avid learners. Black Creek Pioneer Village is an out-of-door heritage museum that preserves a lot of things from the ancient period. It throws light on what rural life in Ontario seemed like during the early 19th century.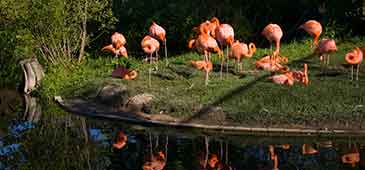 Toronto Zoo
Located out in the north end of Scarborough, the Toronto Zoo is home to a huge array of animals. Starting from polar bears and pandas to tigers, rhinos, and gorillas, the Zoo perfectly showcases different climates where specific animal groups exist in the wild.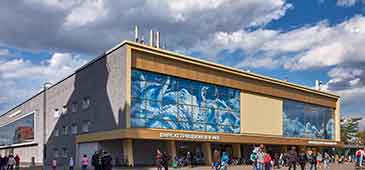 Museum Of Illusion
It is Canada's first Museum of Illusion opened up in Toronto. This is a 21st-century, family friendly museum housing an endlessly Instagrammable fantasia of optical trickery. The museum feels more like an art gallery with each piece defining the visual trickery at play.
How Can MyTicketsToIndia Help In Booking Flights To Toronto?
MyTicketsToIndia is a leading flight-booking portal that specializes in booking cheap tickets to Toronto. With us by your side, you can throw all your flight-related doubts to the wind as we offer fast and secure bookings coupled with bumper discounts. Our travel experts team are equipped with the right knowledge to shortlist the best flights that sync well with your travel requirements. Apart from this, we are available 24*7 because we understand how queries can rise at the oddest hours. Our staff is trained to understand your deepest concerns and solve them in the blink of an eye.
Talk about hassle-free cancelations or swift refunds, we offer them both. Our positive outlook towards our customers is depicted in our Trustpilot score which is 4.8 and reviews which are 5k+ in number. You could experience our exceptional services by getting in touch with us either by giving us a call or by joining the live chat. We'll offer a free quote which will 100% be the lowest. Don't believe us? Call us! We promote crystal-clear transparency and have no hidden charges. Besides this, you will save big while making your travel journey easy.
**We also offer discounted prices on Canada to India flights.