Get Best Deals on Flights from Calgary to Mumbai
(YYC to BOM)

with MyTicketsToIndia

Do deals on airfare sound as exciting to you as checking off the city of dreams from your bucket list? If so, then you'd be thrilled to hear what MyTicketsToIndia has in store for your Calgary to Mumbai flights or Mumbai to Calgary flights! MyTicketsToIndia is every traveler's favorite website and for all the right reasons. It follows a client-driven approach to provide travelers with the most convenient flying options and the cheapest flight tickets from YYC to Mumbai. Additionally, flexible policies are a dream come true and with your favorite travel agency, you can avail yourself of the same and so much more on your next booking of Calgary to Mumbai flights.

One-Way Flight Discount: You surely must know how exorbitant one-way flight tickets are and you might think that there is possibly no way that the cheapest one-way ticket is possible. However, it's time you do not lose hope when MyTicketsToIndia is here to provide you with the cheapest one-way Calgary to India flights deals. We ensure affordable flights to make sure you get the best out of your hard-earned money.

Round-Trip Flight Deal: Although round-trip flights are cheap, however, it is good to save money wherever you can, right? That is why the leading travel agency, MyTicketsToIndia brings forth never seen before flight deals. Our travel experts source out the best deal for you in the hundreds of flights shown to give you a comfortable journey at an exceptional price rate. Also, book your round-trip India to Canada flights with us!

Business-Class Flight Discounts: Searching for Calgary to Mumbai flights that provide maximum comfort at the minimum price possible? MyTicketsToIndia can help you with that. Book our business class flights to travel in sheer comfort and save like never before. What more do you want than wider seats, delicious meals, and complimentary beverages?

Last-Minute Flight Deal: Booking a last-minute flight is always very tricky. One never knows if they will find a flight or not, and would the flight prices be touching the sky or be moderate. Book Calgary to Mumbai flights with MyTicketsToIndia, and stop worrying about the cheapest tickets but be ready to go on a fantastic flight journey with last minute deals.
Tips to Get the Cheapest Flight Ticket from Calgary to Mumbai
The cheapest time to book flights to Mumbai is 60 to 70 days before the departure.
Find the lowest prices on flights during April, the cheapest month to book.
Flights to Mumbai airport must be booked when the flight prices drop on Monday night till Tuesday.
Popular Airlines flying from Calgary to Mumbai
Here are the major airlines that fly from Calgary International Airport to Chhatrapati Shivaji International Airport, Mumbai, the busiest airport in Maharashtra.
About Mumbai
Mumbai, rightfully known as the city of dreams is filled with monuments, ancient structures, and tourists attractions that are surely going to make your trip worthwhile. Call us now for your cheap flights to Mumbai from Canada, to pay a visit to this amazing city. The bustling city is adorned with attractions like the Gateway of India. It is a place of historical significance and is popular for tourists to visit and admire the spectacular views of the sunset. Also, one cannot afford to miss Marine Drive. The beautiful arched-shaped road running along the coast is an ideal place to be mesmerized by the city, an escape from the bustling city to gather peace of mind and rejuvenate yourself.
Elephanta Caves is also on the list of must-visit places in Mumbai. The UNESCO World Heritage Site is one to not miss out. Furthermore, the stunning beaches of Mumbai are one definite reason why this coastal city should be your next holiday destination. Visit Juhu Beach to soak up the sunshine, admire the panoramic views, and munch on authentic delicacies of Mumbai like the vada pav. There are thousands of places in Mumbai waiting to be visited and explored to the fullest. Book flights from Calgary – Mumbai at the cheapest rates and enjoy your trip to the hottest destination of India.
Why Book Calgary – Mumbai Flights with
MyTicketsToIndia?
Wondering how we, at MyTicketsToIndia, can make your travel experience affordable and comfortable? We have a team of travel agents that are available 24×7 to assist you with flight booking queries. Not only this, our travel agency is famed for the lowest airfare guarantee, 100% transparency, and secure payment methods. Our flexible booking policy is what makes us stand out from various other travel portals.
Your preference matters to us. Whether you wish to put in your preferred travel dates or opt for the middle seats or prefer morning departure, we have a variety of options on flights. That's why we ensure that we will bring to you flexible flights according to your needs only. Our travel experts strive to work towards the best interest of our clients to ensure a comfortable flight journey on popular flights. Trust in us and book tickets with us now to find the best deals on flights!
Frequently Asked Questions
Q: What is the IATA code of the Mumbai Airport
A: The IATA code of the Chhatrapati Shivaji International Airport is BOM.
Q: Are there any direct flights from Calgary to Mumbai
A: There are no Calgary to Mumbai direct flights. However, there are a lot of connecting flights for the same distance with two or three stops in between.
Q: How many airlines approximately are regulating flights to Mumbai from Calgary
A: Currently, approximately 22 airlines operate flights to Mumbai from Calgary, out of which there are zero direct flights. Some of the airlines are American Airlines , British Airways , Air Canada Flights , Cathay Pacific , Delta Airlines , etc.
Q: When can one board the first flight from Calgary airport to Mumbai airport
A: You can board the first flight from Calgary airport to Mumbai airport at 00:05 hours.
Q: When does the last flight leave for Mumbai from Calgary
A: The last flight leaves the Calgary airport for Mumbai airport at 23:00 hours.
Q: What is the approximate airfare for a flight to Mumbai airport from Calgary
A: The airfare keeps on changing from time to time. However, the airfare for a flight to the city from Calgary is around Rs. 50,000 for a one-way ticket and Rs. 80,000 for a round way trip.
Q: What is the cheapest day to fly to Mumbai airport from Calgary
A: Monday is the cheapest day to fly to Mumbai airport from Calgary. One tip to keep in mind here is, one should book their tickets on weekdays and not on weekends to avoid weekend surcharges.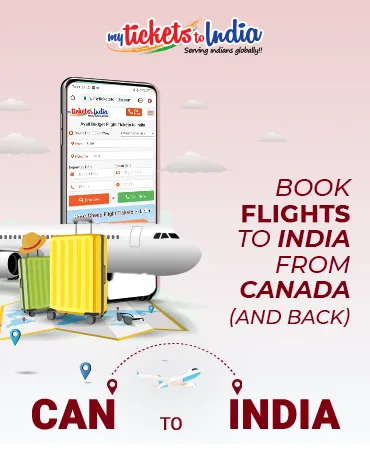 Our Blog
Activities
Getting the latest updates on Canada to India flights (and back) is now easier. Our blog section is inclined towards making journeys hassle-free & more convenient. Be it about the COVID test or travel restrictions, we have it all covered for you.