Posted on Mar 28th, 2022 by Heena Ganotra, Last updated on Aug 24th, 2022
Due to operational constraints, Air Canada is implementing a temporary ban on baggage allowance for passengers flying from Delhi to Vancouver and Toronto.

The airline has limited passengers flying from Delhi Airport (DEL) in Economy Class to 1 checked baggage of 23kg (50lb) only. This rule applies to Premium Economy and Business Class passengers also as they will no longer be permitted to bring excess baggage beyond the standard allowance.
Routes On Which Air Canada Has Implemented Baggage Restrictions
Maximum Baggage Allowance Per Cabin On These Routes
Economy Class: 1 bag weighing no more than 23 kg (50 lb)
Premium Economy: 2 bags, each weighing no more than 23 kg (50 lb)
Business Class: 2 bags, each weighing no more than 32 kg (70 lb)
Note: This temporary embargo (ban) is applicable only on flights from New Delhi to Toronto & Vancouver and not on the return flights. In other words, flights from Vancouver to Delhi and Toronto to Delhi stand unaffected.
Customer Grievances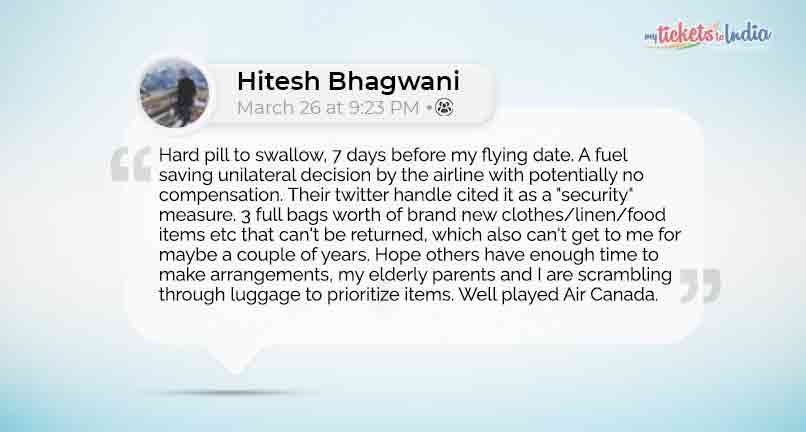 Because this notice came out on 25 March 2022, it's been a hard pill for passengers to swallow since the time for them to make arrangements is less.

But an embargo is an embargo and nothing much can be done. Nonetheless, a lot can be done if you want to book cheap flights from India to Canada or back.
MyTicketsToIndia is a renowned travel portal that offers the best flight itineraries at affordable airfares with no hidden charges and superlative customer services. Get in touch with us for the best flight booking experience today!
A writer by both passion and profession, Heena Ganotra is "half agony, half hope" but all heart. And oh, she has been a book lover from the start! Her love for books is what convinced her to make a career in the wonderful world of words. She loves what she does and is out-and-out a satisfied soul with a wish to spread happiness like herpes. Insight- Some say she is living the best life anyone could because she reads, writes, travels, and makes merry. They're right because what else does one really need! 🙂