Posted on Oct 5th, 2021 by Priyanka Jadhav, Last updated on Aug 24th, 2022
Mumbai, the city of dreams, is known for being one of Maharashtra's most crowded and largest cities. The pride of Maharashtra is also the financial capital city. The best months to visit Mumbai are between October and March as the temperature in Mumbai is quite moderate and it is pleasant to explore.
The capital city of Maharashtra is an ideal destination for Indians and tourists abroad. People from different parts of the country come and work hard to fulfill their dreams. The bustling city is famous for several things. From picturesque landscapes to ancient temples, a variety of beaches, delicious street food, an array of options for stylish street shopping, the metropolitan city has it all! It is also home to many famous Bollywood stars. Isn't the glamorous city exciting? To know more about various places for tourism in Mumbai, book flights to Mumbai today and continue reading this write-up. Check out some best exciting discounts on the following list of tourist attractions in Mumbai:
Popular Destinations to Visit in Mumbai
1.Marine Drive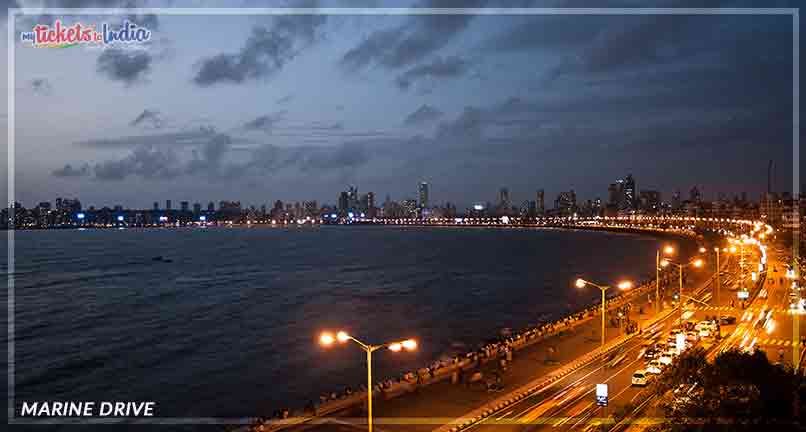 Fondly named the Queen's Necklace, Marine Drive is one of the major attractions in Mumbai. The beautiful arc-shaped bay-side lining the Arabian Sea is flocked by locals and tourists alike during early mornings and late evenings. The entire walkway is bordered marvelously with palm trees. Many Bollywood movies have been shot here and it is an ideal place to unwind after a long day of the hustle-bustle of Mumbai. Here you can even get a chance to see the best sunset. It will be more fun if you come to Mumbai in the rainy season as Marine Drive just gets better rains. While visiting Marine Drive, one can also explore places to visit nearby like the Crawford Market and the Hanging Gardens.
2.Taj Hotel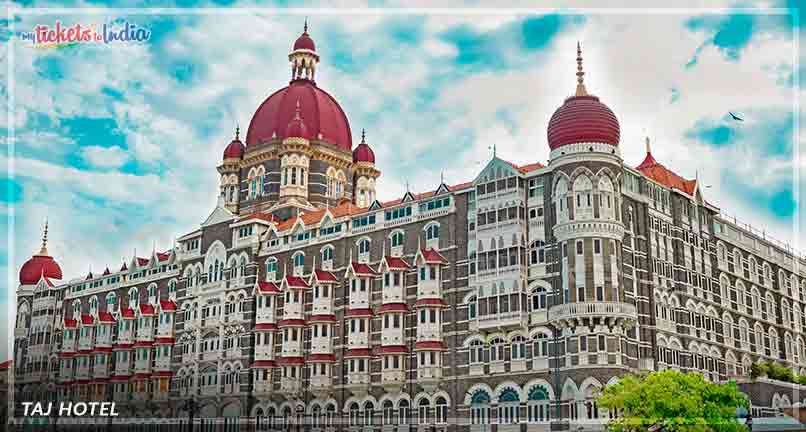 Taj Mahal Hotel, a luxury hotel of its kind, is one of the major attractions of people wanting to experience the lavishness Mumbai has to offer. The 112-year-old hotel is known for its stunning scenic beauty and gorgeous architecture, making Taj Hotel one of the major attractions of Mumbai. If you are planning to visit Mumbai for a short trip, book a room here and stay in style. The luxury hotel is known for providing outstanding services and facilities. The hotel, on its own, can be known as one of the popular weekend getaways.
3.Bandra Worli Sea Link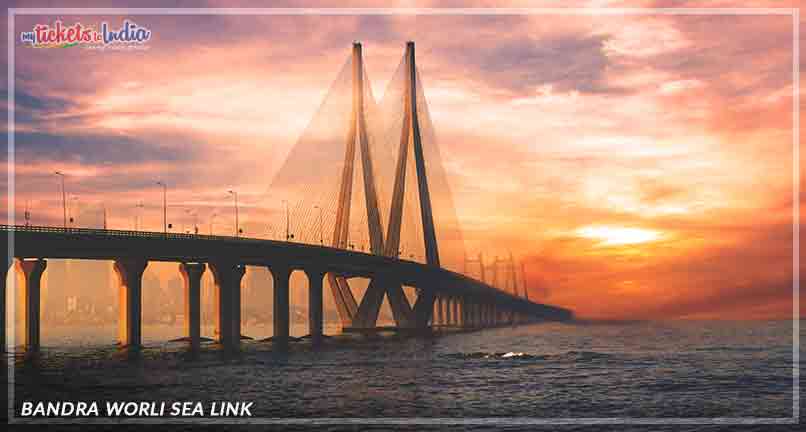 Bandra is a tourist place that constitutes Bandra Worli Sea Link, a beautiful tourist destination that links Bandra in the Western Suburbs of Mumbai with Worli in South Mumbai. Formerly known as Rajiv Gandhi Sea Link, the bridge is a part of everyday travel for many in Mumbai. The bridge offers picturesque landscapes and is worth watching at night. A flight to the famous places in Mumbai is incomplete without a drive across the Bandra Worli Sea Link. Being in Bandra, a tourist place is truly an unforgettable experience.
4.Gateway of India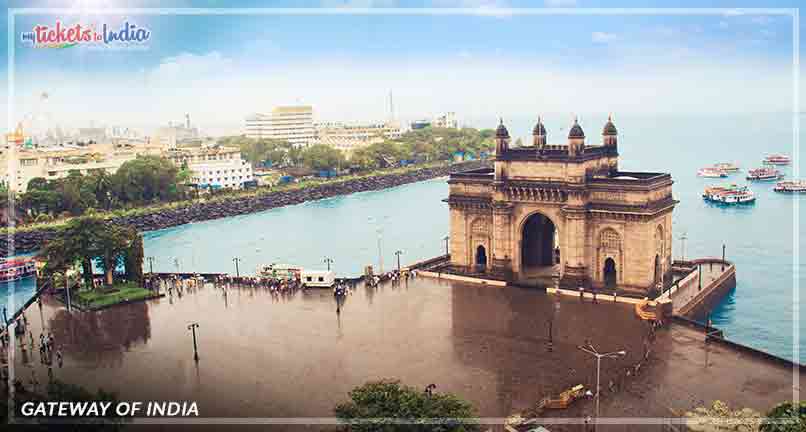 Constructed in the 20th Century, the Gateway of India is one of the largest monuments and popular destinations in the country. The structure is about 85 feet in height, and almost 13 years were taken to construct this monument. The historical significance of this monument is that it was constructed to welcome King George V and Queen Mary for the first time in India. The structural design is a combination of Hindu-Muslim styles. It is a lovely experience to witness the natural beauty of the sea from the Gateway of India. You can spend quality time with family and friends here.
In addition, the Gateway of India has five jetties that can assist the tourist to other major attractions of the city like the Elephanta Caves. The Elephanta Caves, one of the best places to visit in Mumbai, are known for their archaeological significance. These caves show the signs of early settlements from the 2nd Century, intricately carved sculptures. However, the Elephanta Caves were built around the 5th Century or the 6th Century.
5.Mount Mary Church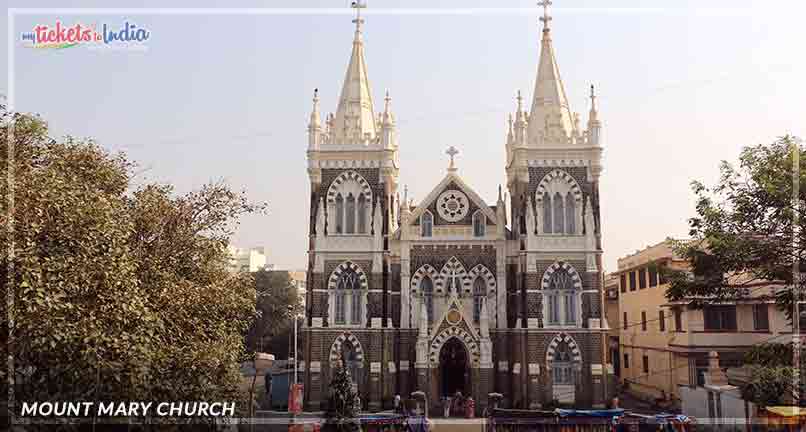 Popularly known as the Basilica of Our Lady Mount, the Church is one of the must-visit places of Mumbai. Reconstructed in 1760 after the Marathas destroyed it, now you can visit the beautifully decorated church during the time of Christmas and New Year. The Church welcomes people from all religions and many locals and tourists alike come to visit the Church during the Mount Mary Festival or The Bandra Fair. Throughout this occasion, the Church is full of people, and it can be a bit crowded. If you like to witness the charm of one of Mumbai's famous places, Mount Mary Church, then it will be a good idea to visit on days when the crowd is less.
6.Asiatic Society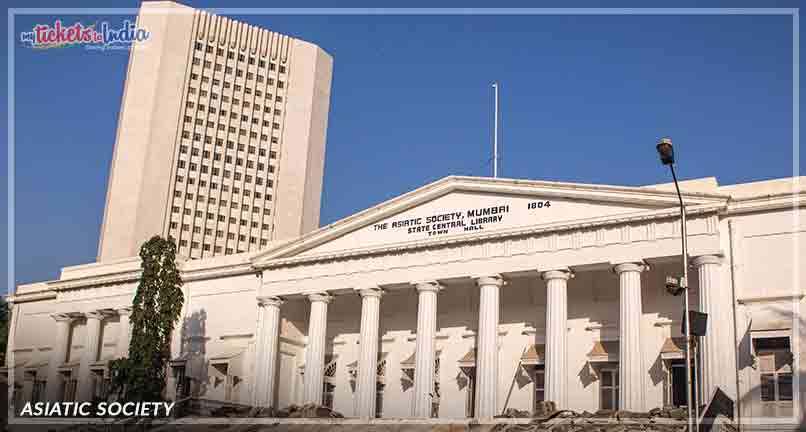 The Asiatic Society of Mumbai comes under one of the must-visit places of Mumbai for all the history enthusiasts out there. This place is about Asian studies, which began with the objective of promoting any type of helpful knowledge. You can find a library inside with tons of books, and many books out of them have been categorized as uncommon and precious. Besides numerous books, the society has loads of artifacts and manuscripts in Prakrit, Persian, and Sanskrit. They have roughly 3000 manuscripts. For those who are interested in artworks, this site is no less than heaven. Since it is one of the oldest library societies in India, it makes it one of the major attractions for tourists in Mumbai.
7.Chhatrapati Shivaji Terminus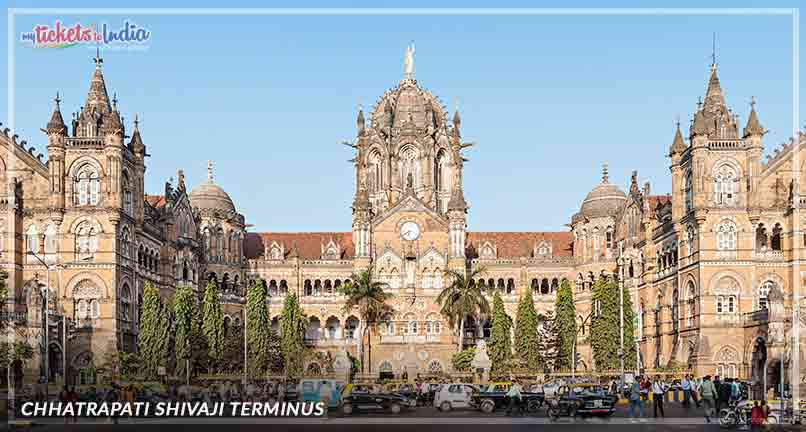 Chhatrapati Shivaji Terminus is often called CST by the localities of Mumbai City. Earlier known as Victoria Terminus (VT), the monument was built in the year, 1887 to commemorate Queen Victoria's Golden Jubilee. The structural design of Chhatrapati Shivaji Terminus is hugely inspired by Victorian Gothic Styles. CST is the lifeline of Mumbai City, and it is believed that people who visit Mumbai for the first time, make sure to view the major attractions the film city is blessed with. This amazing destination became a UNESCO World Heritage Site in 2004. Are you wondering if there are any "tourist places near me"? Yes! There are tourist places like the Heritage Gully, the Parsi fire temple, or the Chor Bazaar.
Conclusion
Planning to visit the city of dreams but the exorbitant fares making you postpone your plans? You have landed on an ideal platform to help you out with pocket-friendly airfares. We, at MyTicketsToIndia, aim to provide our customers with the best discount deals and lowest airfares for your Canada to India flights. We wish you have the most memorable journey touring famous beaches of Mumbai like the Juhu Beach and Chowpatty Beach or seeking blessings from the famous Siddhivinayak Temple. Other popular things to do in Mumbai, India are shopping, gorging on street food, and beach hopping! We understand your needs for a much-needed vacation in Mumbai, so our travel experts are available 24×7 to help you out!
Priyanka Jadhav is a travel writer, who is inclined to explore different cultures and countries. When she is not writing, she is either reading fiction novels or surfing the internet for the next best place to add to her bucket list. Her interests piqued at a young age when she traveled across India and witnessed a variety of cultures, languages, foods, and people. If you're craving for an adrenaline rush, or need an instant travel update - Priyanka has a way with words to help you in every aspect possible. Bring quirky articles and the latest travel updates your way through MyTicketsToIndia, she aims to provide travelers with the necessary information possible.