Posted on Jun 24th, 2021 by Heena Ganotra, Last updated on Aug 24th, 2022
When we talk about 'Toronto', the images of the iconic CN Tower along with the vibrant metropolis surrounded by towering skyscrapers, start popping in our heads. Toronto is undoubtedly one of the most multi-culturally diverse cities in the world. Situated on the shore of the beautiful Lake Ontario, Toronto is internationally popular for its parks, green spaces, museums, theatre, and festivals. Now, if you have planned to book flights to Toronto, then you should not miss visiting some of the popular parks of this place, because relaxing and chilling at a park is undoubtedly the best option to rejuvenate one's mood. And if you are already in Toronto, and your recent search is "parks near me," or "best parks in Toronto," then you have ended up at the right place.
Relaxing and chilling at a park never fails to rejuvenate one's mood. So, before you get confused among the numerous best parks in Toronto, we have a list for you to start with. There are many diverse and beautiful lush green and best parks in Toronto, which is also an answer to your query 'provincial parks near me'. Have a look at the most beautiful parks in Toronto!
High Park :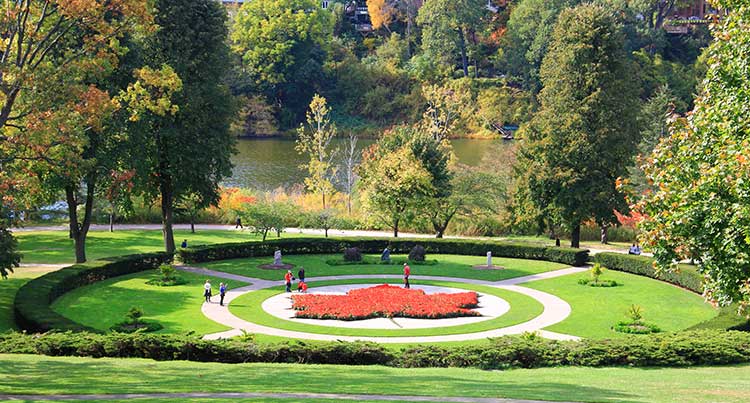 What about Cherry trees? Yes, they are in love! If you desire to puff your heart with utter delight, then you must not miss the exceptional view of cherry tree blossoms. One of the best parks in Toronto, namely the High Park is a famous site to relish the view of beautiful cherry tree blossoms in April and May. Also recognized as a natural site within the city borders, the park features a picnic area along with sports facilities, a pond, and a dog park. Besides, the wildlife that is visible there is sure to boost the dullest mood. Undoubtedly, it is also considered to be one of the best Toronto parks. If you have searched for "parks near me" or "parks around me", surely High Park tops your result!
Oriole Park :
Now, if you are looking for fun and amusement, you can't skip going to Oriole Park. It features tennis and baseball courts, a junior splash pad, sandpit, wading pool, and open spaces where families usually gather for picnics. Moreover, replete with huge trees, Oriole Park is a definite fun time for all. With the numerous fun activities that can be done in this Park, it becomes one of the best parks near Toronto. If you are searching for "scenic parks near me," here is your answer!
East Point Park :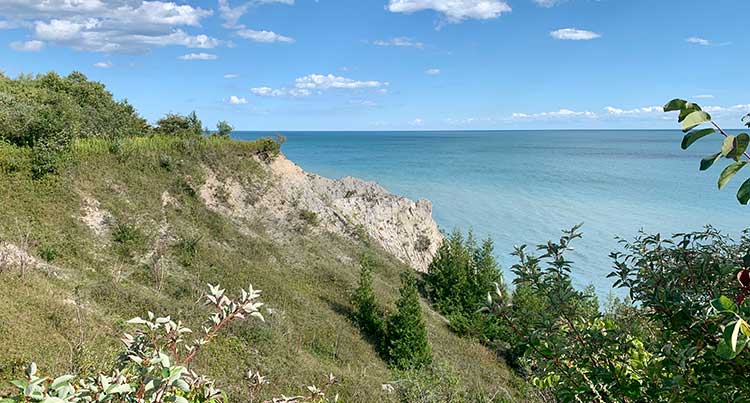 One of the top results for "parks around me" is East Point Park. Situated astride Lake Ontario, East Point Park is one of Toronto's largest parkland places spreading across an area of 136 acres. It is home to more than 178 species of birds and is also a migratory staging area for monarch butterflies. The unparalleled view of the landscape made up of meadow, beach, forest, and wetland is worth watching. Moreover, the nature park is considered to be an ecological gem due to its proximity to Lake Ontario and its moderate climate.
Dufferin Grove Park :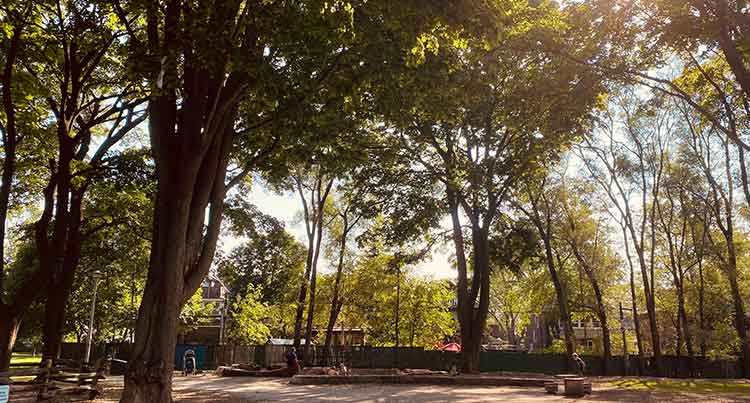 Do you wish to relish the tranquility around greens? Here is yet another answer for "scenic parks near me." Edwards Garden is one of the most beautiful parks in Toronto which can proffer you with this amazing experience. The garden is beautifully embellished with a wading pool, sand to build castles, a playground & reflexology footpath, a skateboard area, and a sports field. Besides, you can also treat your eyes with the splendid view of tall and pretty sugar maples, the canopy of old-grown trees, wide-ranging swamp willows, and hackberries. It is the perfect park for a day trip!
Sunnybrook Park :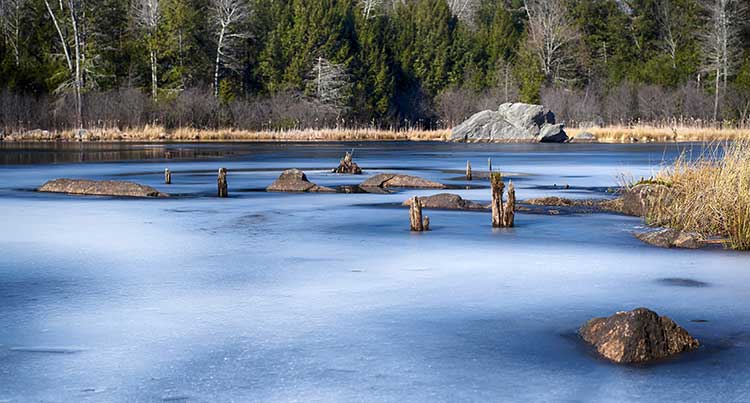 Located north of Leaside and south of Bridle Path, Sunnybrook Park is one of the large parks of Toronto. So if your search is for "parks around me" or a detailed search of "huge parks near me," here is your solution! It has biking trails and hiking trails, and Sunnybrook Stables, to spend quality time with your loved ones. Wholly, the parkland spreads across 60 hectares. Meanwhile, you can also bring your pooches along, as the park houses a dog area as well.
Bluffers Park :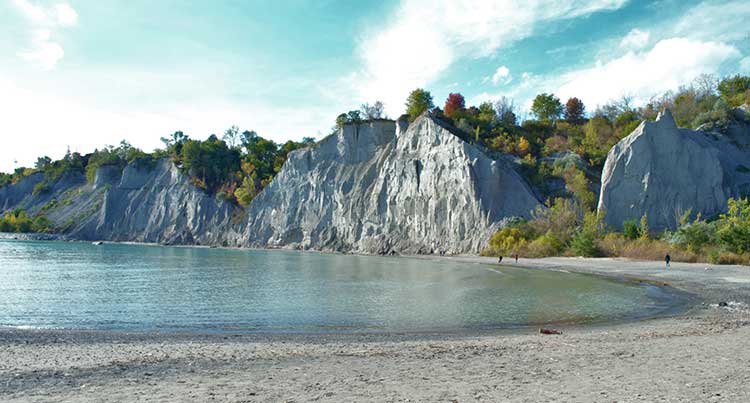 While naming some of the best parks in Toronto, we just cannot miss the name of Bluffers Park, a popular search result for "parks around me". With so much to entice your senses and provide you the recreation at its best, get happily soaked in the spirit of adventure that you get to explore at Bluffers Park. The place is enhanced by amazing architecture, innovative layouts, and well-thought execution, thus, being named in the top list of 'best parks near Toronto.'
Kew Gardens :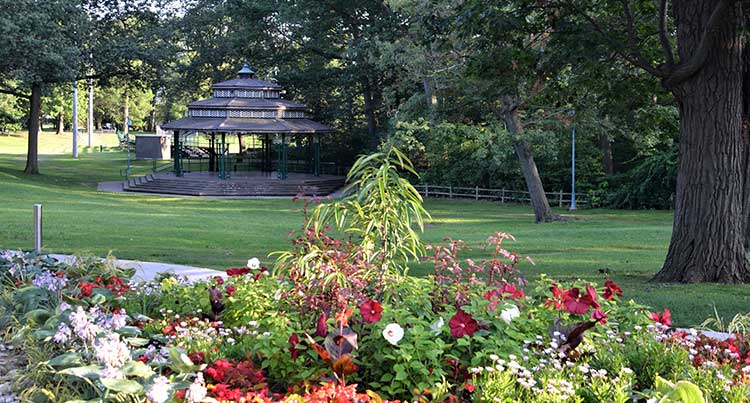 Your search for 'nice parks near me' or 'parks around me' is complete. The 6.5-hectare park is one of the best parks to visit in Toronto. The place provides an Olympic-size public swimming pool and tennis courts. Besides having a beachfront fire pit on winter weekends or enjoying ice-skating in the ice-skating rink, is no less than a divine pleasure. Surrounded by loads of green shade trees and green expanses, Kew Gardens is also one of the chosen places for having a great picnic. Besides all these facilities, the park provides beautiful snack bars and restrooms.
Sherbourne Common :
This park offers you the prettiest view of Toronto's waterfront and is your solution for 'nice parks near me.' Tourists can choose to visit this place at any season; be it lying on the grass in summers or skating on the outdoor ice rink in the chilled winters, you will never lack options in this natural habitat. The ice rink/splash pad was named in honor of the successful Toronto author named Paul Quarrington in 2014. Paul Quarrington wrote the prize-winning novels titled Whale Music and King Leary and also made an indelible mark as a perfect musician by performing with different Canadian bands. So now, while searching for the 'provincial parks near me', do check out this park.
Christie Pits Park :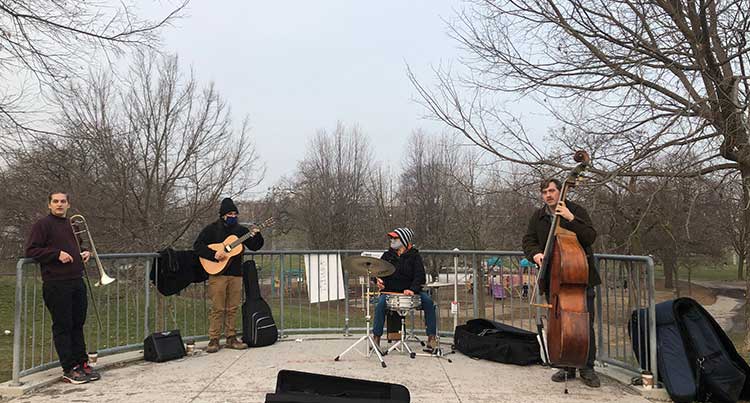 Searching for "fun parks near me" or even "nice parks near me?" Christie Pits Parks is your answer! An 8.9-hectare park located at 750 Bloor Street West and Christie Street, the Christie Pits Parks is named after the famous Christie sand pits that were there until the early 1900s. The park is home to the Alex Duff Memorial Pool, basketball and volleyball courts, an artificial ice rink, a splash pad, a wading pool, and a multi-sport field. Besides, there is also a community area along with fire pit facilities. So, don't miss out on the extreme by visiting these wonder-packed parks.
Allans Garden Conservatory :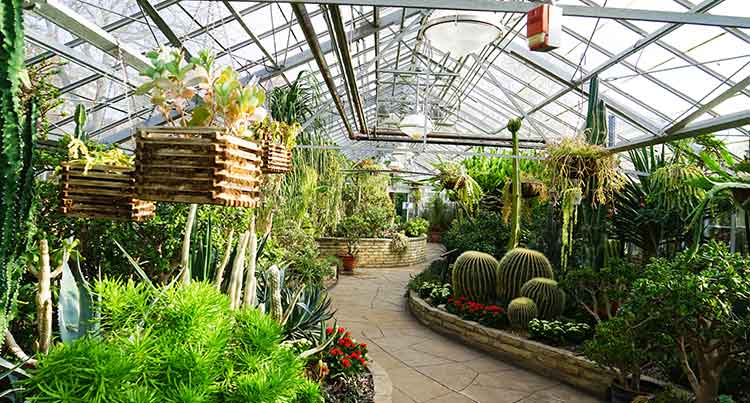 Still looking for "scenic parks near me?" Here is yet another one! Indulging in the beauty of nature, coming across a variety of flowers and plants, is truly heart-soothing and Allans Garden Conservatory has it all that you need. More than a century old, the conservatory has six interconnected greenhouses. Be it severe summers or winters, you can always hop on to this place to enjoy the sight of the beautiful greens. The conservatory beautifully presents different types of orchids, succulents, cacti, pines to tropical plants from all across the globe.
Now that you have an idea of "beautiful parks near me" or "best parks near Toronto," you might have the yearning to visit more best parks in Toronto. Besides the number of parks stated above, many other nice parks in Toronto are worth watching such as Trinity Bellwoods Park, Toronto Island Park, Centreville Amusement Park, Riverdale Park, etc. And, with some of the best provincial parks in Canada, Toronto is the best place to have a memorable time with your loved ones. Book cheap flights to Canada or its other states with MyTicketsToIndia.
MyTicketsToIndia is a leading flight-booking portal that specializes in booking India to Canada flights and Canada to India flights. With us by your side, you can throw all your flight-related doubts to the wind as we offer fast and secure bookings coupled with bumper discounts. Our travel experts are equipped with the right knowledge to shortlist the best India International Flights that sync well with your travel requirements. We are available 24*7 for your help. Buckle Up for a startling journey to India!
A writer by both passion and profession, Heena Ganotra is "half agony, half hope" but all heart. And oh, she has been a book lover from the start! Her love for books is what convinced her to make a career in the wonderful world of words. She loves what she does and is out-and-out a satisfied soul with a wish to spread happiness like herpes. Insight- Some say she is living the best life anyone could because she reads, writes, travels, and makes merry. They're right because what else does one really need! 🙂