Posted on Mar 22nd, 2022 by Pawanpreet Kaur, Last updated on Aug 24th, 2022
Do you need to know the carry on liquid allowance or what you're allowed to take on your flight to or from Canada? Most people like to travel light and don't want to deal with the hassle of checking in their luggage. However, the rules for what is permitted in a carry on and what is allowed in checked-in luggage are different. Travelers should always review the rules before they pack anything to avoid trouble during boarding.
Carry on Luggage Rules for Travelers to Canada
Before determining how many ml's are allowed on a plane, it is important to consider what you're allowed to take with you on the flight. Every airline has specific rules regarding carry-on luggage and what passengers can take with them. Here are some rules to keep in mind:
Every passenger is allowed one carry on luggage and one personal piece of luggage.
The carry on luggage shouldn't exceed 21.5 in x 9 in x 15.5 in or 55 cm x 23 cm x 40 cm in size.
The personal luggage, which includes a purse, laptop bag, camera bag, or similar items, shouldn't exceed 13 in x 6 in x 17 in or 33 cm x 16 cm x 43 cm in size.
The carry on should be light enough for you to lift it and place it in the overhead storage without any assistance.
The items should fit either in the overhead storage or under your seat.
If you're traveling with a baby that will sit on your lap, you'll be allowed an additional carry on like a diaper bag.
Carry on luggage that exceeds the limit may need to be checked in and you'll need to pay the required fees for checked-in baggage.
The sizes include wheels and handle so be sure to measure the size properly to avoid problems during boarding. Passengers can carry medical, sport, or hunting equipment on some airlines but they must register the items and get prior permission.

How Many Ml's Allowed On Plane?
Travelers are only allowed to carry liquid in 100 ml containers. All of the bottles or containers you carry should fit into one quart or liter resealable bag that you can store inside your carry on luggage. You shouldn't carry more than one container of the same liquid if you plan to carry multiple items.
The quart bags are available in most airports but if you're packing in advance and don't want to deal with the hassle of messing with your luggage at the airport, you can easily find it at a nearby store. If you're wondering how many inches is a quart size bag, consider getting something that measures approximately 6 inches by 9 inches or 8 inches by 7 inches.
Make sure the containers and bags you use are of good quality to avoid any sort of spillage, especially if you're carrying something that has a strong fragrance as spillage can make things unpleasant for people in the airplane. The travel allowance for liquids can vary from one country to another so it is a good idea to check the rules of your destination before packing your bags.
You should also make sure that all containers and resealable bags are transparent and easy to inspect. Make sure all bottles fit comfortably into the resealable bag. If the bag is overstuffed and can't close properly, you may face difficulties.
These rules apply if you travel to Canada or travel anywhere inside Canada as well as also apply to travelers heading for India from Canada.
Liquids in Checked-Luggage
All permitted liquid products above 100ml must be in your checked baggage. Make sure the items are packaged properly in clear containers that are properly labeled to ensure they can be screened easily. It is a good idea to scan the list of prohibited items before entering a country. For example, Canada doesn't allow travelers to bring pepper spray.
Can You Bring Alcohol on a Plane in Canada?
There are restrictions on how much and what type of alcohol you can bring with you. Be sure to check the list of permitted and non-permitted liquid, non-solid food, and personal items. For example, alcohol is only permitted in checked luggage if the alcohol percentage is 70% or less. The luggage should contain more than 5 liters of alcoholic beverages but this limitation doesn't allow beverages with less than 24% alcohol.
You can carry duty-free alcohol in your hand luggage if you carry an itemized receipt with all of the product details clearly listed. These items will be sealed in official security bags and don't count as a part of your carry on allowance.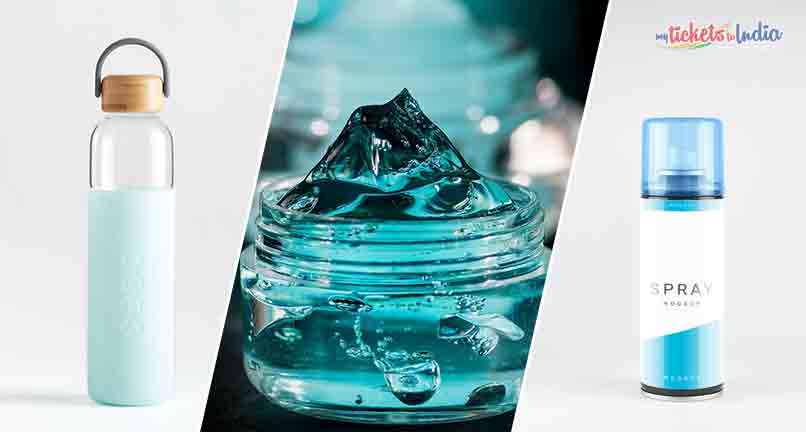 What is Liquid According to the Rules?
You're allowed to carry limited amounts of liquid, aerosol, and gel with you on the flight. Here's a look at what's considered a liquid according to the rules of different airlines. We recommend checking the carrier's website for more details before you travel:
Liquids – Bottled water, coffee, handwash, facewash, shampoo, etc, are considered liquids. Discard any excess water or coffee before boarding the plane. These items will be available to you in the cabin if necessary.
Aerosols – Deodorants, antiperspirants, hairsprays, shaving cream, foaming facewashes, etc, are considered aerosols. You can carry a small aerosol can on a plane as long as it reaches the required weight restrictions.
Gels – Gels can be non-solid food items like jellies, jams, preserves, yogurt, pudding, etc. Non-food gels include shaving gels, lip gloss, hair styling gels, gel deodorant, etc.
Food items that are solid frozen but become liquid at room temperature aren't considered solid and won't be allowed in the carry on. For example, you can't carry ice cream in your carry on and consider it a solid food item. It is a good idea to doublecheck the liquid, gels, and aerosols restrictions for both carry on and checked baggage before packing anything. Some countries will ban items like alcohol entirely.
Are There Any Exceptions to the Limitations on Max Liquid in Carry On?
Yes, there are a few exceptions to the rule. You can carry more than 100ml of the items mentioned below as long as you declare the items and allow the screening officer to inspect them.
Prescription medications of any kind, including carry on liquid medicine, are allowed. It is a good idea to carry the prescription with you.
Liquids and gels that a diabetic individual may need like juice or jellies.
Baby food and formula, including milk, juice, and water. These are permitted if the baby is less than 2 years old.
Breast milk is permitted even if the traveler is traveling without a child.
Essential non-prescription medications like OTC painkillers, cough syrup, nutritional supplements, saline solution for contact lenses, eye-care products, decongestant spray, etc, are also permitted.
Distilled water for Continuous Positive Airway Pressure or CPAP devices is permitted.
Documentation to support your medical requirements isn't necessary but we recommend carrying them to ease the way. Screening may be quicker if you carry some valid proof for medication and medical devices.

Best Way To Pack Liquids In Carry On
Discard any additional liquid before boarding the plane.
Pack all items in clear, 100ml, or 3.4 oz bottles and containers. Make sure the material is transparent and easy to see through.
Pack all items in a one-quart or one-liter resealable bag.
Make sure all items fit the bag properly and won't spillover.
Remove the bag from the carry on luggage and place it in the bin at the screening station.
What if The Items Don't Comply with Liquid Restrictions on Flights?
Even the most diligent and careful travelers can make mistakes. If your items don't fit the travel allowance for liquids, you can take the following steps:
Place the item inside your checked baggage.
Give the item to a friend or family member if they're still in the airport and aren't traveling with you.
Ship the items directly to the destination instead of carrying them with you.
Rebook a later flight to make alternative arrangements for your items.
Abandon the items.
FAQs
Q. Can I bring shaving cream on a plane?
Shaving cream is permitted as long as you carry a small tube of 100ml or 3.4 oz.
Q. Can I bring a tube of toothpaste on the plane?
Yes, you can bring a small tube of toothpaste with you on the plane. As for airplane travel toothpaste size, it is best to carry a 100ml or 3.4 oz tube of toothpaste.
Q. What toiletries can I bring on the plane?
You can find the full list of toiletries and cosmetics you can bring on the plane at CATSA Website. The items include:
Shampoo
Conditioner
Mouthwash
Toothpaste
Perfume/cologne
Liquid soap
Hand sanitizers
Shaving gel
Gel deodorants
Sunscreen spray
Body spray
Q. Is hand sanitizer allowed in hand luggage?
Yes, gel, liquid, and foam hand sanitizers are allowed on the pan in your carry on luggage.
Q. Can I take prescription cream on a plane?
Yes, you can take prescription cream on the plane. You don't even need to adhere to the size restrictions and can carry more than 100 ml or 3.4 oz.
If you're planning to travel from Canada to India and back, and are looking for affordable tickets, consider visiting MyTicketsToIndia to find the best flight deals. Our convenient and easy-to-use platform makes booking tickets to and from India a breeze. We're an IATA-Certified agency that offers affordable prices, secure transactions, and great customer support.
Pawanpreet is a versatile content writer and editor who enjoys experimenting with various niches of writing. Her keen eye for detail and love for thorough research helps her create high-quality content to outweigh clickbait. She extensively works for digital marketing and manages clients that range from travel to luxury goods. Her creativity is fueled by her love for learning new things, travelling, and the environment. Also, she is a free soul and an avid animal lover who believes in doing everything with a smile 🙂